Thomas Pollmann is net als Johan Weber een polderloper met ambivalente gevoelens ten opzichte van de polder. Voor deze mannen had de Zuiderzee nooit het IJsselmeer hoeven te worden. Veel liever hadden zij vanaf een Lemster aak of een Staverse jol de zon aan de horizon op zien komen achter de silhouetten van de Kuinder burcht of de prachtige toren van Blokzijl. Tevreden trekkend aan een pijpje tabak en een bakje troost in de hand leunend op een helmstok.
Toch heeft Pollmann het, net als Weber, geschopt tot jubilaris en heeft hij inmiddels de 25 tochten volbracht.

Maritieme tochten
Het spreekt vanzelf dat Pollmann een groot voorstander is van de poldertochten over water. Hij was er dan ook bij toen er werd geroeid vanuit Arnhem en werd gekanood vanuit Lierderholthuis en Dronten. Ook wanneer het water is bevroren is hij graag van de partij op het ijs.
Ondertussen heeft de tijd niet stil gestaan en hebben ook zijn kinderen en zijn vrouw al kennis gemaakt met het polderlopen.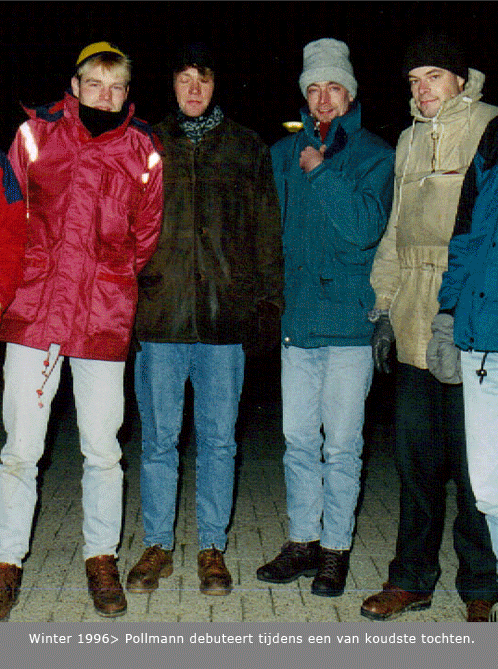 2014
km
102
Winter
Harderhaven
30
2010
084
Zomer
Urk
13

2008

km
076

Zomer

Lelystad

11

2007

074

Winter

Flevonice

28


2005

066
064

Winter
Zomer

Biddingh.
Enkhuizen

19
46






2004

062
060
Winter
Zomer
Kampen
Elburg
30
30

2003

058
057

Winter
Herfst
Almere
Urk
32
18

2002

054
053
052
Winter
Herfst
Zomer
Arnhem
Arnhem
Dronten
32
148
25


2001

049
048
047
Herfst
Zomer
Lente
Biddingh.
Urk
Kampen
20
19
27

2000

046
045
044
043
Winter
Herfst
Zomer
Lente
Almere
Dronten
Elburg
Emmeloord
33
27
30
36

1999

040
039
Zomer
Lente
Urk
Zeewolde
22
39

1998

038
036
035
Winter
Zomer
Lente
Kampen
Enkhuizen
Lemmer
32
42
44

1997

034
033
031
Winter
Herfst
Lente
Zeewolde
Lierderholt.
Urk
30
54
19

1996

030

Winter

Almere

38