Onze wandelaar uit Moskou en Mokum debuteerde samen met Johan Weber tijdens de herfsttocht van 1996. Na een verblijf in de Russische hoofdstad voegde hij zich in de winter van 1999 voor de tweede maal bij de polderlopers. Het was duidelijk dat deze ijskoude tocht een hartverwarmende ervaring voor Ubels was. De jaren daarna dook hij even trouw als onregelmatig op in de polder.

Extremen
Ubels is een man van extremen: tijdens de reeds genoemde koudste tocht genoot hij evenveel als tijdens de allerheetste tocht. Beroemd is de foto waarop hij met polderpoedelaar Steenaart het verkoelende water van de Zuiderzee verkiest boven de verzengende hitte die als een klamme deken op het hete asfalt van de Houtribdijk lag.
Ook zijn dochter Marusha heeft inmiddels met het polderlopen kennis gemaakt maar of hiermee een derde generatie polderlopers is geboren valt te betwijfelen.
Ubels is een stille genieter die zich meestal 'in burger' in de polder meldt. In grote tegenstelling tot ware outdoor-lopers als Van Onna, Boerema of Faber, sloft Ubels flegmatiek op zijn sandaaltjes of zondagse schoenen door. Nooit hoor je hem klagen over de omstandigheden en als het lekker vriest verschijnt hij in een truitje met een vestje - dat hij niet dicht doet - op houten schaatsen op het ijs in Biddinghuizen: een kranige Hollandsche knaap zoals uit de tijd van de polderpioniers!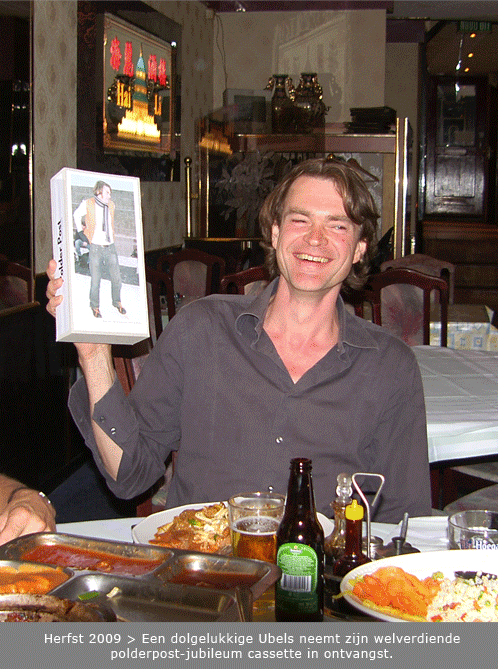 2010

km

085
Herfst
Lelystad
7

2009

Herfst
Zomer
Lente
Urk
Dronten
't Harde
21
12
33

2008

076
075
Zomer
Lente
Lelystad
Dronten
11
15

2007

074
073
072
071
Winter
Herfst
Zomer
Lente
Flevonice
Swifterbant
Kampen
Elburg
28
7
33
32

2005

066
064
Winter
Zomer
Biddingh.
Enkhuizen
8
46





2004

062
060
Winter
Zomer
Kampen
Elburg
30
30

2003

058
057
056
055
Winter
Herfst
Zomer
Lente
Almere
Urk
Kadoelen
Ramspol
32
18
43
33

2002

054
051
Winter
Lente
Vertrek
Swifterbant
32
10

2001

049
047
Herfst
Lente
Biddingh.
Kampen
20
27

2000

046
045
043
Winter
Herfst
Lente
Almere
Dronten
Emmeloord
33
27
36

1999

042

Winter

Almere

33

1996

029

Herfst

Kampen

30